Discover more from Wheelchair Travel Newsletter
Open Your World through accessible travel! Whether you're disabled, know someone who is, or want to make your business accessible — join me as I explore the world with one hand, a passport and my power wheelchair.
Over 27,000 subscribers
Accessible River Boats and Exploring the Baltics
How a wheelchair accessible boat made the news, and a trio of destinations on the Baltic Sea await disabled travelers.
"Twenty years from now you will be more disappointed by the things you didn't do than by the ones you did. So throw off the bowlines. Sail away from safe harbor. Catch the trade winds in your sails. Dream. Discover." — Mark Twain
Hello everybody!
Last month, a group of boaters made the news after they were spotted collecting cans of beer from a derailed train in Montana. The photos caught my eye due a large wheelchair symbol painted on the boat.
Turns out, the small drift boat is actually wheelchair accessible — constructed by Willie Boats, it includes accessibility features like a raised floor, securement tie-downs, and a ramp for power wheelchairs. The company produced a fantastic video about the boat's accessibility and how one man is using it to regain his independence.
Wheelchair Travel Newsletter is a reader-supported publication. To receive new posts and support my work, consider becoming a free or paid subscriber.
Summertime Adventures
Last summer, I took a monthslong trip through Europe and the Middle East, visiting some 15 countries — it was a thrilling adventure and made for one of the most exciting travel seasons of my life. One product of that journey was a trio of accessible travel guides to the Baltic States, which I discuss later in this newsletter.
This summer won't be as fast-paced, but my plans are starting to come together — I'll be exploring many more cities in the United States. My intention was to remain stateside, however there may be at least one international surprise — last week, I stumbled upon a tremendous airfare deal to Australia and tentatively booked it for July. I'm not sure if I will end up going (two visits to Australia in 6 months seems excessive), but you'll certainly know if I do!
Premium Newsletter Update
One of the best ways you can show your support for this accessible travel blog is by joining as a paid newsletter subscriber. The Wheelchair Travel Newsletter is a top 10 travel publication on Substack (see the leaderboard), and I'm eager to expand with your support. Please consider upgrading to a paid subscription — for less than the cost of Netflix, you can unlock a plethora of premium benefits and support my work to make the world more accessible.
How to Work With Me
Are you a destination, travel provider or business looking to level-up on accessibility? I'd love to help you achieve your goals in the accessible travel market. Head on over to my website and learn how we can work together.
Thank you, as always, for your readership — enjoy the weekend!
All the best,
John Morris
---
Message from our sponsor, accessibleGO
At accessibleGO, we understand that booking an accessible hotel room is a service that should be tailored to your individual accessibility needs. Our customer experience representatives will work directly with you and the hotel to make sure that your accessible needs are understood and actually met, so that—for once!—you're free to just enjoy your trip. We also offer proprietary accessibility information for thousands of hotels across America, allowing you to search by the specific accessible features you need, benefit from discounted rates up to 60% off, and access a community of like-minded travelers. When you book with us, you can trust that we've got your back.
---
Latest Accessible Travel Articles
Baseball Team Says Disabled Fans Are Not Entitled to the "Best Seats in the House"
An attorney for the Chicago Cubs presented a morally bankrupt argument — that disabled people should have no expectation of equal access.
Airline Details Plans to Offer Hourly Bed Rentals to Coach Passengers
Air New Zealand will permit economy class passengers on its ultra long-haul flights to the USA to rent a bunk bed for a portion of the flight.
How I Afford to Fly First Class Without Breaking the Bank
Points and miles democratize travel. They allow everyday people like you and me to travel more and travel better without spending loads of money, and you don't have to fly (or go bankrupt) to earn them. Find out how I earn the points to pay for travel.
---
Featured Destination: Tallinn, Estonia
The countries of Estonia, Latvia and Lithuania, located on the eastern coast of the Baltic Sea, are home to three of Europe's most interesting and historic capital cities. I've previously written at length about accessibility in Riga, Latvia and Vilnius, Lithuania, and today I'm excited to complete the trifecta — with the release of the Tallinn, Estonia Wheelchair Accessible Travel Guide.
Check out some of what's inside the free Tallinn Travel Guide:
---
Check out these best-selling tees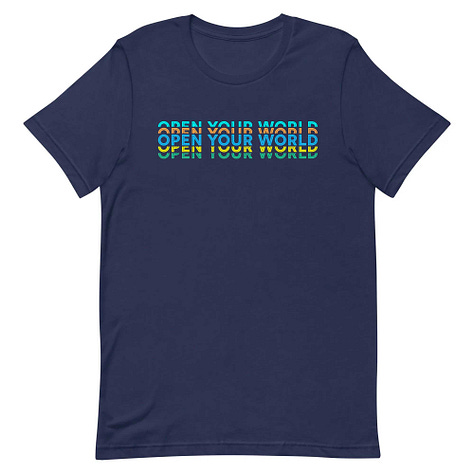 Temperatures are warming, so add one of these popular short sleeve t-shirts to your summer wardrobe!
---
In Case You Missed It
These popular articles appeared in a previous newsletter — if you haven't taken a look yet, give them a read!
My Fear(less) Journey: 3 Reflections on 10 Years of Accessible Travel
Looking back on 10 years of accessible travel, I reflected on what inspires me to travel, the fear of the unknown, and the stories we all have to share.
Check out these articles too:
---
What I'm Reading
I typically read about two books a month, and thought I'd start sharing my selections with you. Most of the books I read aren't about travel — not directly, at least — but it just so happens that my latest read does have a travel component. Between Two Kingdoms: A Memoir of a Life Interrupted, is a New York Times bestseller that "traces one young woman's journey from diagnosis to remission to re-entry into 'normal' life," which includes a road trip of 15,000 miles!
That's all for now, folks! See you next week in the Premium Newsletter, or later this month in the standard issue!
Wheelchair Travel Newsletter is a reader-supported publication. To receive new posts and support my work, consider becoming a free or paid subscriber.