Discover more from Wheelchair Travel Newsletter
Open Your World through accessible travel! Whether you're disabled, know someone who is, or want to make your business accessible — join me as I explore the world with one hand, a passport and my power wheelchair.
Over 27,000 subscribers
Wheelchair Travel Newsletter: Leaf Peeping, Two Giveaways and an Interview
Enjoying New England's time-limited fall foliage season; win a travel package including airfare and hotel; and register for my interview with TravelAbility's founder.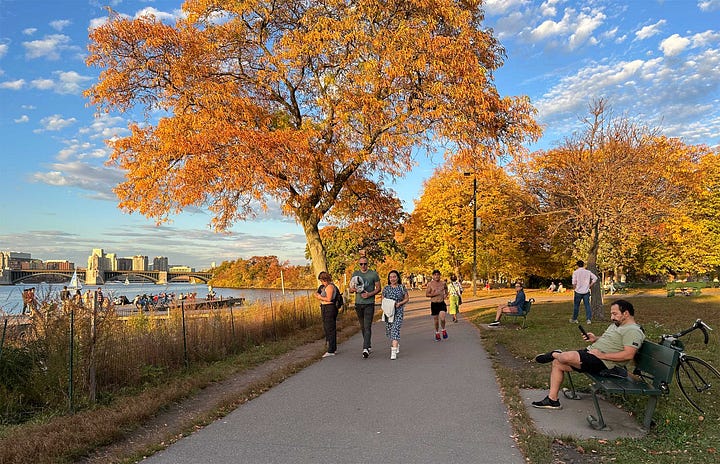 "We take photos as a return ticket to a moment otherwise gone."
—Katie Thurmes
Hello!
Here in Boston, overnight temperatures are just starting to hit the low-30s Fahrenheit, which means that days are numbered on this year's leaf peeping season. Last weekend, I spent some time exploring North Point Park and the Charles River Esplanade, two public parks along the riverfront with an impressive array of fall foliage and views of the Cambridge and Boston skylines. We had some uncharacteristically warm weather (80 degrees!), making for a wonderful weekend outdoors!
Lots of news this week, so let's get started.
The next Accessible Travel Chat will take place on Monday, November 6 at 7:00 p.m. ET (New York time). I'll be joined by Jake Steinman, founder of the TravelAbility Summit, who will discuss the organization's work to make accessibility a priority for travel professionals and destination marketing organizations. To register for the event, visit the Accessible Travel Chat registration link. After registering, you'll receive an email with a link to connect via Zoom.
Accessible Travel Chats are possible thanks to paid subscribers of the Wheelchair Travel Newsletter — Consider joining the list of people who support my coverage of important accessible travel topics by upgrading to a paid subscription. 
This newsletter contains TWO giveaways! Here's the first:
On Tuesday, November 14 at 7:00 p.m. ET, I'll be sharing Thanksgiving travel tips in a chat hosted by accessibleGO. To register for the event and be entered to win a Fall Travel Package that includes a $250 Southwest Airlines gift card, a $250 Disney gift card, and a hotel room booked on accessibleGO (up to $200), visit the John Morris x accessibleGO registration link.
Looking ahead: I'm attending two football games this weekend — one in Pittsburgh on Saturday and another in Boston on Sunday (my first Patriots game). Here's hoping for on-time flights and stress-free travels! Next week will be my last full week in New England during the month of November, and I'm looking forward to retreating to the Florida warmth for the Thanksgiving holiday (does that make me a snowbird?).
Have a great weekend,
— John
---
Latest Accessible Travel Articles
Disability Surcharge: 7 Reasons Why Travel is More Expensive for Disabled People
Disabled people unfairly bear the financial costs of inaccessibility, making vacations more expensive and putting travel out of reach for some.
Enter the November 2023 WheelchairTravel.org Giveaway!
Wheelchair Travel readers can join the holiday cheer by entering to win a free t-shirt or gift card in the November 2023 giveaway!
Airline Disability Complaints Skyrocketing: The DOT Has Received Too Many Passenger Complaints to Count in 2023
The number of disability complaints filed between 2019 and 2023 is shocking, and the sustained increase in complaints from disabled airline passengers should raise alarm bells at the U.S. Department of Transportation.
---
---
Featured Destinations
Pittsburgh, Pennsylvania Wheelchair Accessible Travel Guide
At the confluence of the Allegheny, Monongahela and Ohio Rivers, you'll find the City of Bridges — and the Monongahela Incline, the oldest continuously operated funicular in the United States (it's wheelchair accessible!).
Prague, Czech Republic Wheelchair Accessible Travel Guide
Central Europe's "City of a Hundred Spires" is much more wheelchair-friendly than you might expect, with many on-street trams having low floors (and a ramp), and many subway stations with elevators.
---
In Case You Missed It
Guest Post: Taking My First Long Distance Trip in Nearly a Decade
Alan, who has Duchenne Muscular Dystrophy and uses a power wheelchair, writes about his first time traveling far from home in many years.
Check out these articles too: