Discover more from Wheelchair Travel Newsletter
Open Your World through accessible travel! Whether you're disabled, know someone who is, or want to make your business accessible — join me as I explore the world with one hand, a passport and my power wheelchair.
Over 27,000 subscribers
Wheelchair Travel Newsletter: Our Fearless Journeys
Accessible travel news & updates from John at WheelchairTravel.org.
"I'm in love with cities I've never been to and people I've never met." — Melody Truong
Hola!
Last week, my friend Francisco Gonzalez — CEO of Fearless Journeys and a visiting professor at Francisco Marroquín University in Guatemala City — shared a link to a podcast where he discussed his new book, The American Dream Is A Terrible Thing To Waste: 100 Agents Of Innovation Share Their Fearless Journeys In Today's Economy. I'm one of the "agents of innovation" profiled in the book, and he gave me a shout out on the podcast.
The podcast was engaging and left me thinking about a few things related to accessible travel — namely, what inspires us to travel, confronting fear of the unknown, and the stories we all have to share. I wrote about that at some length here: My Fear(less) Journey: 3 Reflections After 10 Years of Accessible Travel. I think you'll like it, give it a read!
Meeting a design icon
In celebration of the 10th annual Boston Design Week, the Institute for Human Centered Design held an open house at their Boston headquarters.
The event featured an interview with Coco Raynes, an award-winning designer whose work has had a significant and positive impact on accessibility. I was delighted to attend the talk and brought my copy of her incredible book, Coco Raynes: 50 Years of Design Evolution, to the signing that followed.
Wheelchair Travel Newsletter is a reader-supported publication. To receive new posts and support my work, consider becoming a free or paid subscriber.
Speaking of books… I'm going to write one!
"You should write a book." I hear this at least once a week, oftentimes from people I've just met. I haven't written a book, not because I'm reluctant to write (the millions of words on WheelchairTravel.org would fill multiple volumes), but because I can't decide where to begin!
17th century French mathematician and philosopher Blaise Pascal discovered the answer to my conundrum centuries ago when he said, "The last thing one settles in writing a book is what one should put in first."
And so, setting aside the opening chapter for now, my (hopefully fearless) journey of book-authoring will start with a focus on individual stories — and, as I write, I'd like to share some of those stories with you. You can support this endeavor and follow my book-writing journey by upgrading to a premium newsletter subscription.
To those who have already subscribed to the premium newsletter, thank you! If you haven't yet, here's a reminder of what you'll receive as a paid subscriber:
Access exclusive content not published elsewhere

Invitation to a members-only community, Q&A sessions on Zoom and events throughout the year

Discounts in the Wheelchair Travel Shop
All that and more is available for $7.50 per month or $75 per year. Alternatively, if you'd like to increase your support and level up as a Founding Member, you'll be able to connect with me on a one-on-one phone or video call to ask accessible travel questions and trip planning advice. Click the link below to upgrade.
Looking ahead
I've been stuck at home in Boston for a bit, but am currently finalizing plans to visit a few cities on the East Coast and have just started planning a return trip to this week's featured destination (scroll down to see why). Thanks for your readership and for following along with my accessible adventures!
Take care,
John Morris
---
Message from our sponsor, accessibleGO
At accessibleGO, we understand that booking an accessible hotel room is a service that should be tailored to your individual accessibility needs. Our customer experience representatives will work directly with you and the hotel to make sure that your accessible needs are understood and actually met, so that—for once!—you're free to just enjoy your trip. We also offer proprietary accessibility information for thousands of hotels across America, allowing you to search by the specific accessible features you need, benefit from discounted rates up to 60% off, and access a community of like-minded travelers. When you book with us, you can trust that we've got your back.
---
Latest Accessible Travel Articles
Review: Wheelchair Accessibility of Fiji Airways Airbus A350 Business Class (Nadi to Los Angeles)
Wheelchair accessibility review of Fiji Airways Airbus A350 business class from Nadi to LAX plus accessible lavatory, inflight dining and more.
Round-up of Accessible Travel News: Disabled People Now Welcome on 'Birthright Israel' Trips, The Hotel Where 60% of Employees Have a Disability and more…
Get up to speed on the latest stories in the world of accessible travel, including a landmark agreement to make NYC subway stations accessible, a hotel that takes disability-inclusive hiring seriously and more.
FINALLY: A Wheelchair Accessible Autonomous Vehicle and Taxi Has Arrived!
As vehicles with autonomous driving capability gain wider adoption, it is important to ensure that these platforms are wheelchair accessible.
5 Portable Wheelchair Ramps for Accessible Travel
I was recently in the market for a new portable wheelchair ramp to aid my travels (and visits to my friends' homes), and thought you might benefit from my research — here are 5 great ramps that I considered before making a purchase.
---
Featured Destination: Berlin, Germany
Berlin is a very accessible city, and a fantastic place to vacation, but one of its most famed tourist attractions is about to close — for 14 years!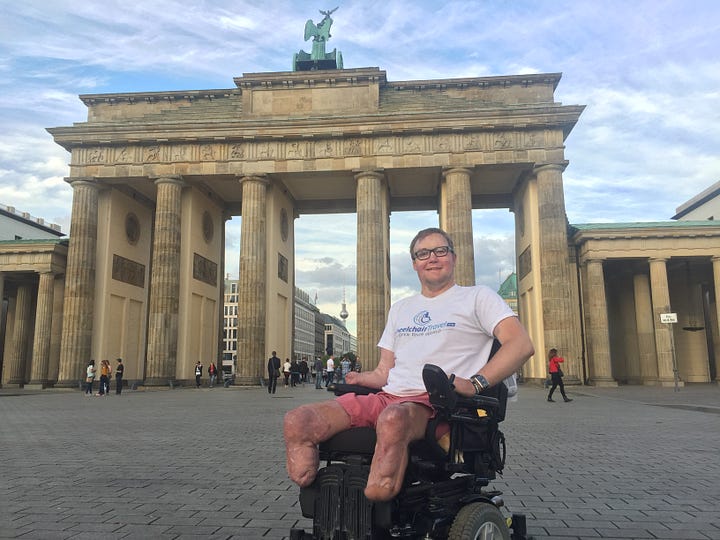 Museum Island, located at the heart of Berlin's historic city center on the Spree River, is a UNESCO World Heritage Site and home to 5 of the world's most respected museums. The star attraction, the Pergamon Museum, houses priceless archaeological artifacts such as the Ishtar Gate from Babylon (575 BC), the Pergamon Altar (180-160 BC), and the Market Gate of Miletus (100 AD).
In response to "urgently necessary rehabilitation" to address "the stability of the building and the safety of the exhibits," the Pergamon Museum will close completely to visitors on October 23, 2023. The extensive construction is planned to be completed over a period of 14 years, with reopening of the museum and all of its exhibits set for 2037. If you'd like to plan a trip to enjoy the museum in advance of its long-term closure, check out my free Berlin Wheelchair Accessible Travel Guide. Here's some of what you'll find inside:
---
New t-shirt design with extended sizes just dropped!
The brand-new Open Your World t-shirt will make for a sharp addition to your wardrobe — it's a t-shirt made for everyone, available in multiple colors and an extended range of sizes, from XS to 5XL!
---
In Case You Missed It
These popular articles appeared in a previous newsletter — if you haven't taken a look yet, give them a read!
That's all for now, folks! Please consider subscribing to my Premium Newsletter for content not published anywhere else.